Randy Chez - Drums
A self-taught musician, Randy began like most players taking up playing in school where he became an award-winning snare drummer and, while but a teenager, formed his first band at 17.

He was recognized and respected part of the Houston music scene and spent the larger part of his playing time there working in various road and recording situations and has, throughout the years, appeared on over 41 LP recording projects. In the late 70's, he was part of the Medieval rock band ArkAngel whose only release, WARRIOR(dist. by ABC Records), found such popularity with the local radio listening audience that the cut DEWLLING PLACE hit the number one spot in the region, solely on the strength of call-in requests... and rarely a month goes by without him receiving email about the band, still.

Along the way, Randy has had the great pleasure to work with Sam Moore (Sam & Dave). BigFoot Johnson (featuring ex-Point Blank members Rusty Burns and John O' Daniel), former FREDDIE KING side-man Andrew "Jr. Boy" Jones, among others. He has also worked, in differing, non-playing, capacities with such notables as 60's rock icon Barry McGuire along with CCM greats Andrae Crouch, Phil Keaggy and Kerry Livgren.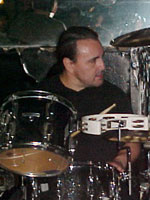 Randy Chez